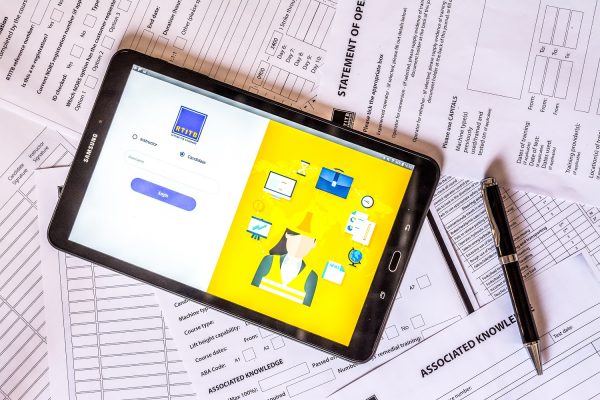 Nowadays there's an app for everything but did you know there's even an app to help with lift truck training?
Our MyRTITB TrainingFriend app has seen continual success since it's launch in 2018, winning at both the Food Storage & Distribution Federation's 2018 Health and Safety Awards and the Design4Safety Awards 2019. Plus, it's just been shortlisted for the FLTA Awards for Excellence 2020!
The accolades all highlight the importance of improving safety standards, whilst focusing specifically on design and celebrating innovative thinking so it's no surprise that MyRTITB Training Friend has been recognised time and time again!
The MyRTITB TrainingFriend app improves safety by ensuring that materials handling equipment operators are assessed correctly, and that training records can prove training has complied with health and safety legislation. The award-winning app covers assessment and administration for more than 120 different machine types and can save businesses time, as well as resource and costs.
Check out our latest video to find out more.
With the MyRTITB TrainingFriend app, the completely unique and 100% paperless solution, not only will your business see the benefits, your workforce will too. Here's why it's a winner.
1. Cut costs and time spent on administration
For the equivalent of just £20 per month, the MyRTITB TrainingFriend app makes training 100% paperless. No more buying, printing or photocopying test marking sheets, training records, training journals or registration forms!
Plus, did you know that by digitalising your training administration and assessment and using the MyRTITB TrainingFriend app, you could save up to 5 hours admin time per training course?
How many hours could you save each year?
2. No more compliance headaches
No longer will you have to sort through endless papers to find what you're looking for or worry about accidentally using the wrong (or out of date) pre-use or practical test marking sheet. All the paperwork that you will need to carry out compliant forklift training is securely stored in one place and easily accessible whenever you should need it.
Furthermore, gone are the days of stressing over an audit. With the help of the app, audits are quicker and easier than ever before!
3. Increased volume of training taking place
With all the extra time gained through removing administration from the equation, your staff will be able to dedicate their time to do what they do best, whether that's looking after current customers or investing the extra time in seeking potential new work and therefore growing the business.
4. Automatic updates through the app
With the MyRTITB TrainingFriend app, long gone are the days of creating and updating theory test papers. Both the pre-use and practical tests will continually be kept up to date according to the most recent standards, such as Accrediting Bodies Association (ABA). With a minimum of 2 theory papers for each course automatically built into the app, you're set to start delivering an enhanced level of assessment.
5. Instant proof of attendance
The app automatically collates and creates a highly professional, electronic 'Training Record' in a PDF format, meaning that no more of your time is wasted on copying and collating candidate training records.
The app also has the ability to send users an instant proof of attendance.
"Being able to receive evidence of attendance immediately after completing a course is helpful, instead of having to wait until a certificate arrives", says one of our accredited partners.
Digitalise your lift truck training with MyRTITB TrainingFriend
It's easy for RTITB accredited organisations to get started using the app! With free training at either our offices in Telford, via webinar or on your site if you require multiple licenses, we offer full support and will be on hand to run you through your first few courses using the app.
What are you waiting for? Find out more about the benefits of RTITB accreditation, or get in touch to discuss joining the revolution and becoming an accredited RTITB partner.