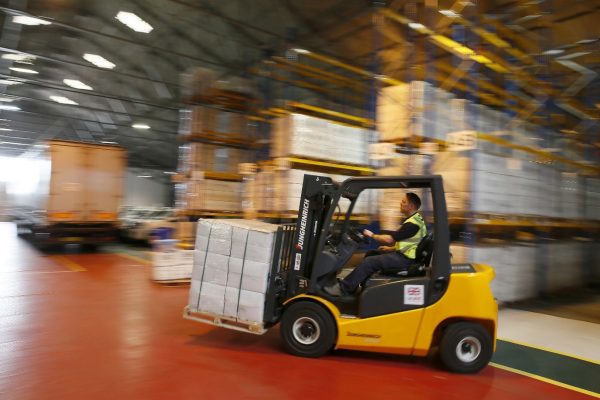 Over the past year, a lot has been tinged with uncertainty. Holiday plans have been put on hold, or postponed more than once, schools have opened and closed (and opened and closed again!), and the rules around who we can meet up with have been in a constant state of flux. However, though there may have been some adaptations along the way, throughout all this, training hasn't gone anywhere. So it's time to stock up on the essentials!
The RTITB Shop can help, with a fantastic range of top quality, great value training essentials for lift truck operator courses.
RTITB Trainers' Guides on USB!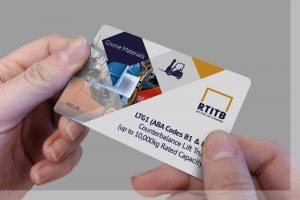 Our most popular Trainers' Guides have now gone completely digital!
The new pocket-sized USB ensures training materials can be carried anywhere. It saves paper and gives you all the standardised training materials you need at an even lower price – helpful during these challenging times. Available now for courses including counterbalance (forklift), reach truck operator, pedestrian pallet truck operator, MEWP (or cherry picker) operator, Yardshunter, Banksman, and more!
Counterbalance Operator's Safety Code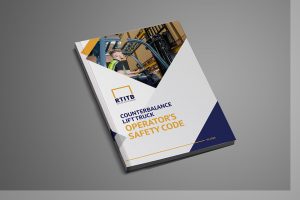 Being a safe and efficient counterbalance lift truck operator requires careful training, good judgement, practical knowledge, and confidence. Our handy and easy to use Safety Code helps too, providing clear guidance on how to operate safely.
This booklet can be used either during lift truck operator training, or by qualified operators to refresh their skills and knowledge regularly. It's an easy resource to keep to hand, can be co-branded and is designed to be easy to refer back to whenever needed, even during these busy times in the supply chain.
Reach Truck Operator Safety Video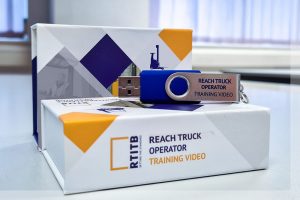 Do you deliver Reach Truck operator training? Then you need this video package! This is a comprehensive visual aid, providing demonstration of the skills and knowledge required to operate a Reach Truck safely and effectively. It can be used in initial Basic operator training, or as a tool during the Refresher courses you deliver.
There's no need to fight with unwelcome voice-over or music, this USB contains 32 operator clips with no soundtrack, so you can talk over the visuals and provide a detailed explanation of the skills on show. Plus, we have a fantastic Counterbalance operator training video too – check it out here.
Order Picker Trainers' Guide USB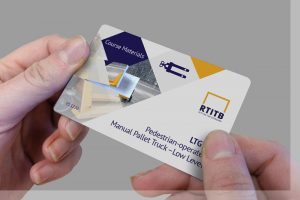 Our LTG13 Order Picker Trainers' Guide – supplied on a USB – includes course documentation, course design, and information on training standards and copies of test marking sheets for Practical, Pre Use Inspection and Associated Knowledge.
The guide will walk you through the course lesson by lesson, providing you with the information you need to deliver Novice, Existing, Conversion and Refresher training for e category trucks, as well as medium and high level order pickers.
RTITB Candidate Hi-Vis Vest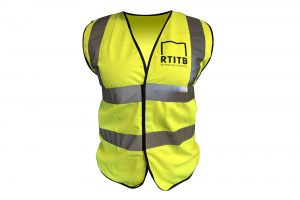 Help keep your candidates safe during RTITB training with branded hi-vis vests.
Our classic yellow hi-vis vest is printed with an RTITB logo on the front left breast in blue. On the back is a larger version of the RTITB logo, along with the word 'Candidate'.
LGV Walk Around Check Bundle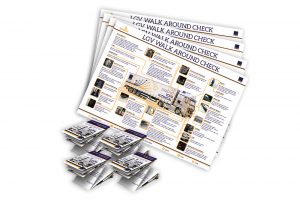 Keeping LGV drivers and their vehicles safe is critical for supply chain efficiency – especially as the logistics sector is under continued pressure caused by the pandemic.
Help your drivers do their bit for HGV safety and compliance with our handy, walk around check bundle. Featuring eye-catching photos of vehicle components and guidance text, this bundle will make a welcome addition to any large vehicle operation and help you ensure walk around checks are never side-lined, even when you're busy
Visit the RTITB Shop now to buy these great products and browse many more.