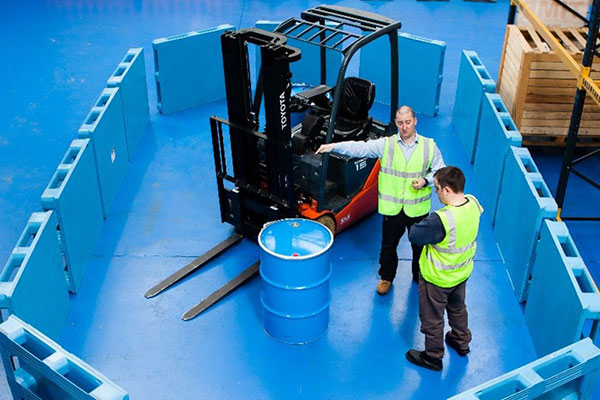 The Covid-19 pandemic slowed down all training in warehousing and logistics businesses. Months on, the effects continue to be felt. Currently, businesses do not have enough qualified Lift Truck Instructors to deliver essential operator training. This means there are still training bottlenecks. Operators may have to wait weeks or months for training. In turn, impacting operational productivity.
Is your business struggling to recruit Lift Truck Instructors externally? Here are three things you could consider instead.
Upskill from within your team
Have you considered upskilling existing team members to become Lift Truck Instructors? This approach can help close problematic skills gaps. Lift truck operators, warehouse operatives, or supervisors may be keen to develop their career within your business.
They come with the benefit of an understanding of your existing business and operations. Operators also often respond well to being trained by a trusted colleague.
This approach can also set out a clear career progression path for others, such as apprentices who may have a future in your business. This makes you an attractive employer in a competitive recruitment market.
Reskill and retain your valuable talent
There are always likely to be people in your organisation that are seeking a new career path.
Do you have managers or supervisors who are keen to step back into a more hands-on role? Training as a Lift Truck Instructor can give them a new focus, while retaining their valuable knowledge.
There may be team members from completely different departments that are interested in taking on a new challenge. A Lift Truck Instructor course could help them to find a new career direction, which is fulfilling and engaging. In turn, improving morale and loyalty.
Cross-skill to maximise potential
Perhaps you already have a team of Instructors in your business. Are you using their professional skills to the fullest?
For instance, a qualified LGV Instructor, Pallet Truck Instructor or Driver CPC Instructor could attend Lift Truck Instructor training to add this additional skillset. This is a fantastic opportunity for professional development and adds variety to their role. It could even be a stepping stone towards a management position.
This approach also enables your workforce to be more agile. They can retain their existing role but use their skills as a Lift Truck Instructor where needed.
As Instructors have a greater number of courses they can deliver, it also makes organising training far easier.
Did you know, Instructors can also deliver courses for various materials handling equipment. For instance, Reach Trucks and Pallet/Stacker Trucks. See more here.
Training Lift Truck Instructors – where to start
The first step is always doing a thorough review of where you have gaps in skills and knowledge. If there are time pressures on training, it may be helpful to train those who are already best prepared as the priority.
Next, employers should consider who the best candidates for Instructor training might be. It is a myth that the most experienced operators would be the best Instructors.
In fact, there are many other attributes and personality traits that make a good Instructor. Such as strong leadership, effective communication, organisation, or approachability.
We have a free downloadable guide to Lift Truck Instructor Candidate Selection.
Then, it is important to identify a reputable Lift Truck Instructor training provider.
RTITB Accredited Instructor Training Centres
RTITB Accredited Instructor Centres can deliver the Lift Truck Instructor courses that your business needs. They are based nationwide across the UK.
All centres must achieve and uphold specific standards to be RTITB Accredited for Instructor training. This gives you peace of mind that they are delivering exceptional standards of training. As a result, you benefit from highly skilled and safety-focused Lift Truck Instructors to train your team in-house.
Easily find your nearest RTITB Accredited Instructor Centre for Lift Truck Instructor training in just a few clicks here.