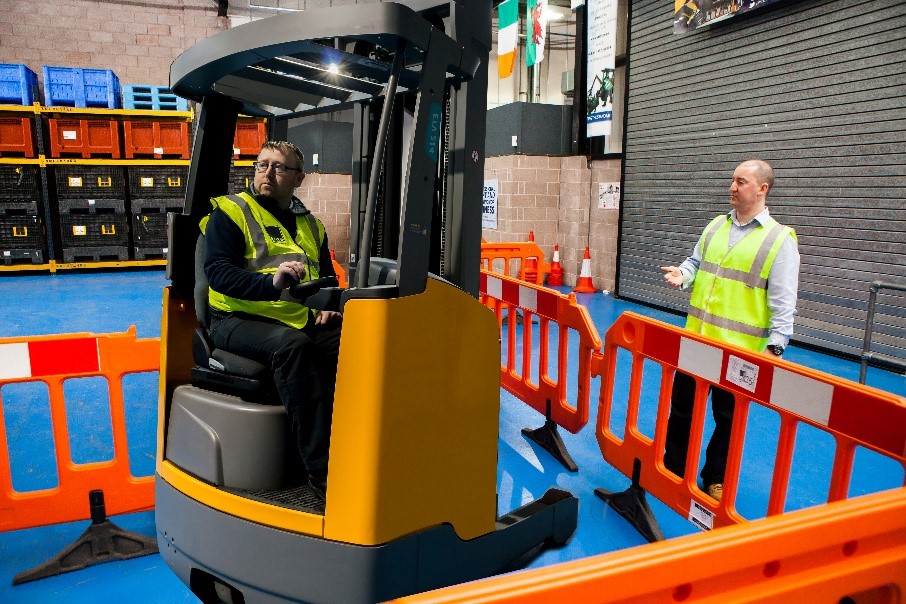 Did you know that one Lift Truck Instructors qualification can be used to train operators on multiple types of materials handling equipment (MHE)?  
You may choose to train a Lift Truck Instructor because you need the resource to deliver in-house training to your lift truck operators. However, this qualified Instructor can be a valuable asset if you also require operator training for other types of warehouse equipment.  
Lift Truck Instructors that have successfully completed the course at the RTITB Instructor Academy may also be able to train operators for reach rucks, order pickers, VNA machines, and much more. They just need to hold an operator certificate to operate these other types of equipment, and "sufficient industrial experience to enable them to put their instruction in context, and an adequate knowledge of the working environment in which the trainee will be expected to operate"*. 
Greater flexibility for your operation 
When a Lift Truck Instructor has the skills and knowledge to train operators on various machine/truck types, this gives your operation more flexibility. It makes it easier to plan training on multiple types of equipment. It also saves time and money. There is no need to train specific Instructors to deliver training for every different type of truck. 
Your organisation will also find it easier to flex as training needs and equipment types change over time. Your Lift Truck Instructor will be in place, ready to train operators to the highest standards without the need to completely re-train.  
This helps reduce Instructor training costs. You can also make savings as you only need to purchase the training materials for the different courses as and when you need them. 
Save time, money, and resource with one training solution 
Ten days out of the business for novice Lift Truck Instructor training can seem a lot. However, organisations find it is often more cost-effective in the long run.  
Qualified Lift Truck Instructors add huge value to organisations. They make it possible for new operators joining the business to be trained when needed. There is also no need to plan courses around the availability of an external trainer. 
They can also deliver training to convert operators' skills to other machine types. And they can conduct refresher training where required. This helps maintain compliance.  
Well-rounded Instructor training 
The Lift Truck Instructor course at the RTITB Instructor Academy is designed to give candidates a diverse skillset. It is about learning the core, transferrable Instructional skills, from lesson planning to classroom and practical training delivery skills. 
Lift Truck Instructor training also supports professional development for the individual. This contributes to engagement, loyalty, satisfaction and retention. With a shortage of Instructors within the industry, this is more important than ever. 
Giving Instructors a broader day-to-day remit, covering training on various equipment can help to keep them engaged. This can include contributing to the ongoing monitoring of operator performance and conduct assessments of operator ability, annually, or after incidents, for example. And it expands their career development opportunities for the future.  
It may also help build their confidence as Instructors. In turn, they will deliver quality operator training, resulting in safer, more efficient lift truck operations. 
Dedicated Instructor courses if you need them 
It is worth noting that some Instructor training courses, such as the Low Level Pallet Truck Instructor course (ABA categories A1/A2) are designed to be more specific. If training is not required on a wide variety of truck types, this may be a better option for some businesses. Because the training is focused on one truck type, it can be a shorter duration and more cost-effective. 
The Pallet Truck Instructor Course gives candidates the skills to deliver safe and efficient pedestrian pallet truck operator training, practically and in a classroom setting.  
RTITB Instructor training wherever suits you  
If you need a versatile Instructor in your business, we can help. Training for Lift Truck Instructors can be delivered at the RTITB Instructor Academy in Telford, West Midlands, or on your own premises. On customer premises, the course can be delivered on any truck/machine type – not just a Counterbalance Lift Truck (which is what we use for courses delivered at our centre).  
Book Lift Truck Instructor Training now 
Get in touch with one of our Academy training experts now to plan your Instructor training to save time and money. Call +44 (0)1952 520214 or email academy@rtitb.com for the next available Lift Truck Instructor course dates. 
You can find out more about the RTITB Instructor Academy here.