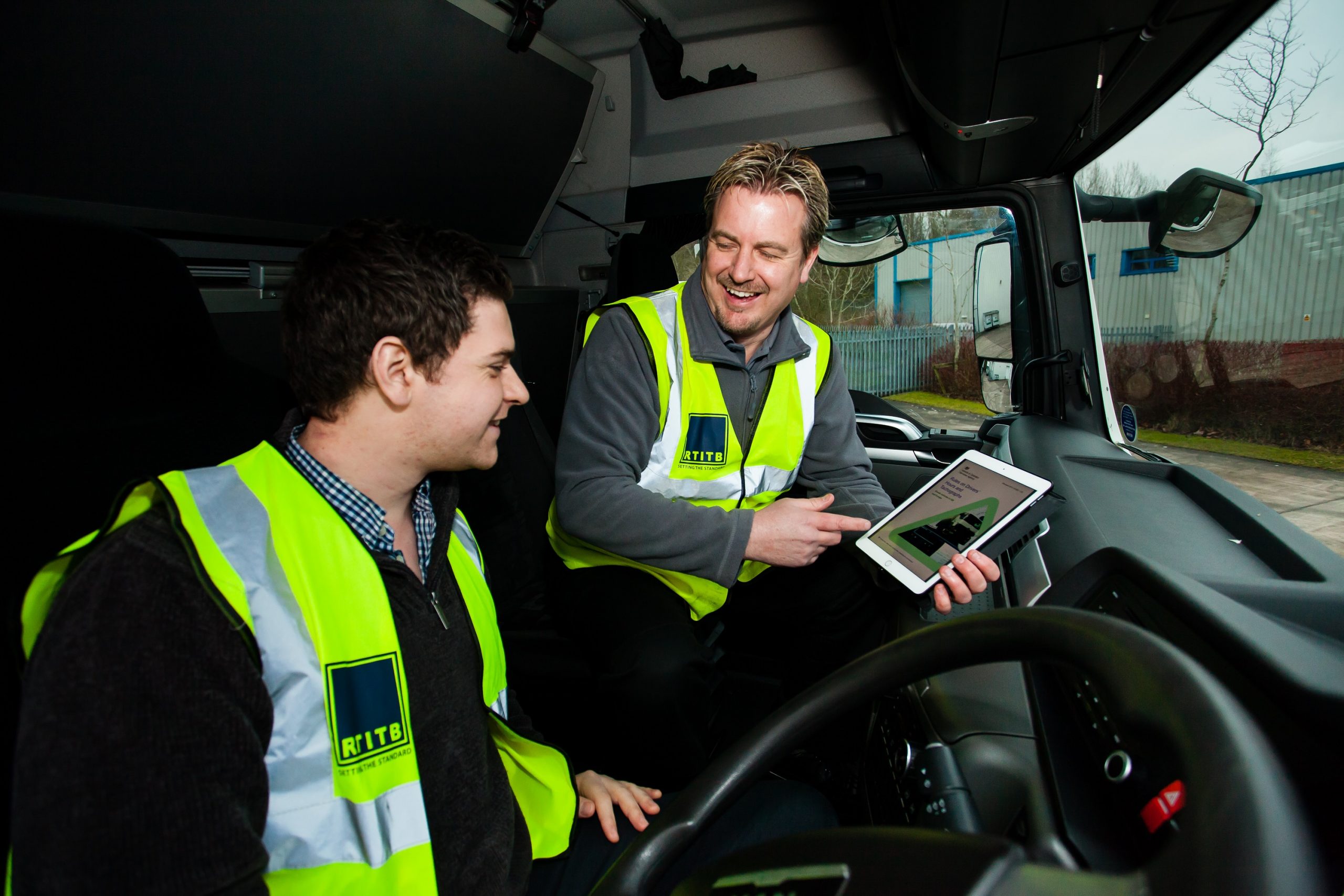 There is often misunderstanding among employers about LGV (Large Goods Vehicle) Driver Training – specifically the differences between Initial Driver CPC Training and Periodic Driver CPC Training.
To clear up the confusion, we've answered some of your frequently asked questions.
What qualifications or training does an LGV Driver require?
LGV (also known as HGV – Heavy Goods Vehicle) driving is a skilled profession, with risk attached. Training is vital to ensure heightened safety for the driver and other road users, and compliance with legislation, both for the employer and the driver.
Every professional LGV driver in Britain and Northern Ireland must hold a valid Driver Qualification Card (DQC), (sometimes called a Driver CPC Card). To acquire this card, new drivers must first complete initial Driver CPC (Certificate of Professional Competence) Training.
Then, to keep hold of the card and qualification, drivers must follow the initial training with Periodic Driver CPC Training.
What is Initial Driver CPC training?
The Initial Driver CPC Qualification training is for new drivers learning this professional skill. It is divided into 4 modules, which make up the license entitlement process and the Certificate of Professional Competence (CPC).
What does Initial Driver CPC include?
The first module is a theory and hazard perception test. Module 2 is a theory-based case study test which must be passed before moving on to the third module. This is a practical LGV driving testfor category C, E or C+E.  Modules 1 and 3 must be passed for license entitlement. Modules 2 and 4 must be passed to achieve the Initial Driver CPC.
Module 4 is a practical assessment of associated knowledge known as a 'demonstration test'in which the driver must demonstrate an understanding of vehicle-related issues, like daily inspection, safety, and load restraints.
Only on completion of all 4 modules will candidates receive the DQC, which legally enables them to drive LGVs professionally.  As an employer, you must always check that your drivers have a valid card (which has not expired) and the necessary qualifications.
What is Driver CPC Periodic Training?
Driver CPC Periodic Training follows Initial Driver CPC Training and is for existing, qualified professional LGV drivers. It is legally required Continued Professional Development (CPD), that was introduced in 2008. In order to retain the DQC or Driver CPC Card after initial training, every LGV driver must complete 35 hours of Driver CPC Training over a five-year cycle.
Failure to complete the required hours in the five-year timeframe results in suspension of the driver's entitlement to drive vocationally until the training hours have been completed. This means that any driver still operating after their deadline without completing the 35 hours of periodic training is driving illegally.
What is covered in Driver CPC Periodic Training?
Driver CPC Periodic Training covers various aspects of professional driving and the content must be in line with the EU syllabus. The training modules must be approved by JAUPT and the DVSA and can be chosen to reflect the type of work that the driver does so that they can refresh relevant skills and keep up to date.
Among the many subjects that can be covered in training are; safe and economic driving skills, load safety, driver behaviour, emergency actions and first aid, legislation and compliance, using tachographs, understanding vehicle systems, health and safety best practice, and driver hours regulation.  These training modules are designed to be beneficial to established drivers, who can apply their experience during training, while building on and developing their existing knowledge and skills.
RTITB Driver CPC Periodic Training is delivered in bite-size topics which can be presented in a number of engaging and interactive ways, including quizzes, video-led discussion, working party style discussions and case study-based learning.
Topics in the RTITB training library include vulnerable road users, driving in challenging weather, telematics, professional driving, breakdowns, in-cab distractions, mental health and much more.
When is the Driver CPC Periodic Training cycle?
LGV Drivers who obtained their Initial Driver CPC after 10th September 2009 must complete the training in five-year cycles which begin at the time of qualification.  Established drivers that qualified prior to 2009 must complete their training during a set five-year Periodic Training cycle. The current cycle started in 2014 and finishes on 9th September 2019.
It's important to plan and schedule in Driver CPC training for all of your drivers over the five-year period, to minimise disruption to the operationand to ensure the deadline is met. To get the most value out of the training, you should not treat it as a tick box exercise. Instead, you should tailor it to suit your drivers' and company's needs by choosing training which covers the most relevant topics.
How can you check if an LGV driver is up to date with their CPC training hours?
Drivers and employers can check the status of their Driver CPC Periodic Training at direct.gov.uk/checkdrivercpc.
Remember! The current Driver CPC Periodic Training cycle deadline is in 2019, so now is the time to book Driver CPC Periodic Training hours still required.

Contact us for more information about Driver CPC Periodic Training or joining the RTITB Master Driver CPC Consortium.