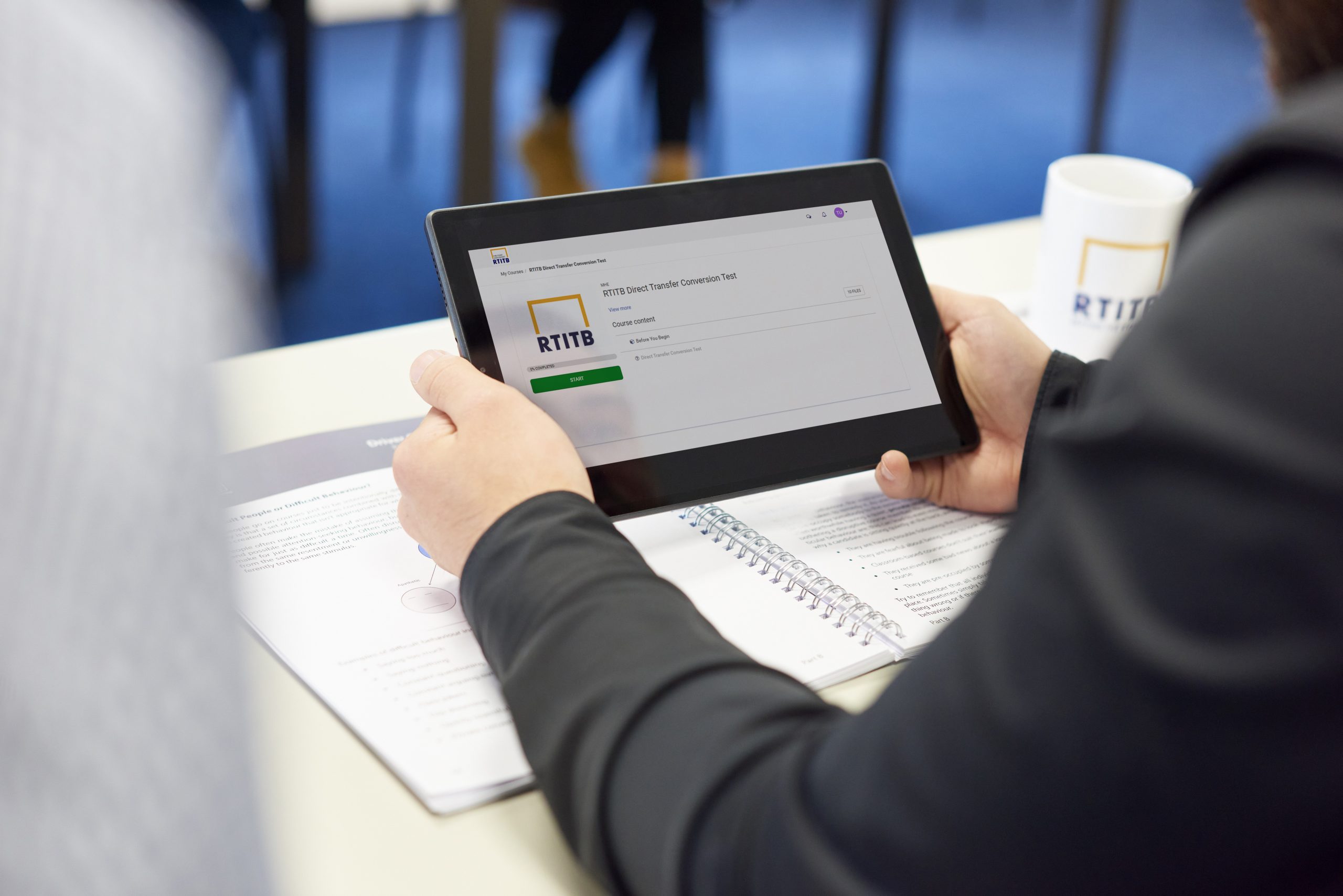 For Lift Truck Instructors, converting to an RTITB qualification is now even easier. For many Instructors, this can now be done via an online test. It enables them to demonstrate competency, and then register as an RTITB Instructor, speeding up the process. Here's what you need to know.
The candidate eligibility criteria for RTITB Lift Truck Instructor courses changed in January 2023. Among those changes was the introduction of a new Direct Transfer (Conversion) option. This is for existing Instructors looking to convert to an RTITB qualification.
Who can register as a Lift Truck Instructor via Direct Transfer?
This new solution is for Instructors who currently hold an equivalent Lift Truck Instructor qualification. They must currently be registered with another Accrediting Bodies Association for Workplace Transport (ABA) member, such as AITT, ITSSAR, LANTRA or NPORS. Their registration must be up to date and not expired.
Instructors can take an online assessment to transfer their existing qualification and become RTITB Registered. This can be done only once. Subsequent re-registration will then need to be done with RTITB.
What does the online conversion test include?
The online assessment has 40 questions designed to measure an Instructors competency. The test covers key areas of skills and knowledge. Areas include:
Instructional Techniques
Operator Training and Testing
Basic Operating Skills Test – Associated Knowledge
Video-based Hazard Perception
Instructors have one attempt at completing the online assessment. If they successfully pass, then can register as an RTITB Instructor.
Their RTITB registration will then run to the existing expiry date of their current qualification. To continue with their RTITB registration after this time, Instructors will need to re-register as normal. This requires attendance at a three-day or five-day Lift Truck Instructor re-registration training course.
If the Instructor fails the online assessment for Direct Transfer, they must complete a full RTITB Lift Truck Instructor Conversion Course. Those successfully completing the course are eligible to join the RTITB Register of Professional Instructors.
Why has the Direct Transfer option been introduced?
There is a shortage of qualified Lift Truck Instructors to deliver the training that is needed to address industry-wide operator skills shortages. At the same time, many organisations need RTITB Registered Instructors to ensure high standards, safety, and compliance.
This new option addresses the shortage of available RTITB Instructors. It enables you to recruit non-RTITB Instructors for your business. Then easily convert them to the RTITB qualifications needed.
If every Instructor needs to attend an RTITB Lift Truck Conversion course, this can be days lost to attending training. With Direct Transfer, the whole process can be completed more quickly, while still ensuring standards. The link to complete the online assessment can also be provided in just a few hours once payment is made.
The result is that Instructors are up and running in your business faster. And their time is spent using their valuable skills to deliver training.
The approach benefits self-employed Instructors too. The new conversion option makes it quicker and simpler to gain the RTITB Registration that customers are looking for. This can help to secure more work. And do so more cost-effectively.
How much does Direct Transfer cost?
As the online assessment can be completed any time and anywhere, the Direct Transfer approach saves money as well as time. There is no need to pay for travel or hotels for an Instructor to attend a conversion training course.
The Direct Transfer option also costs just £150+VAT per candidate. This covers the online test and the Instructor's registration afterwards if they successfully pass.
Why convert to an RTITB Instructor qualification?
All of the candidate eligibility changes for RTITB Lift Truck Instructors are designed to make the process more efficient. By modernising the Instructor training process, the training is also more engaging, and helps improve Instructor standards. And with a better standard of Instructors, comes better Lift Truck operators.
Converting your existing Instructors' qualifications to the RTITB standard can bring many benefits. From safety and compliance to time saving. Read more about this here.
Get started with Direct Transfer
If you have eligible Instructors that need to convert their qualification, or are an Instructor ready to convert, there's no need to wait. Simply email exams@rtitb.com with a copy of the current Instructor certificate to request access to the online assessment and a web link to make payment.
If you need more information on how it works first, please call the team on +44 (0)1952 520200, and select Option 1, then Option 1 again.
Or if you require a three or five-day Lift Truck Instructor Conversion course, find your nearest RTITB Accredited Instructor Centre using our Course Locator.