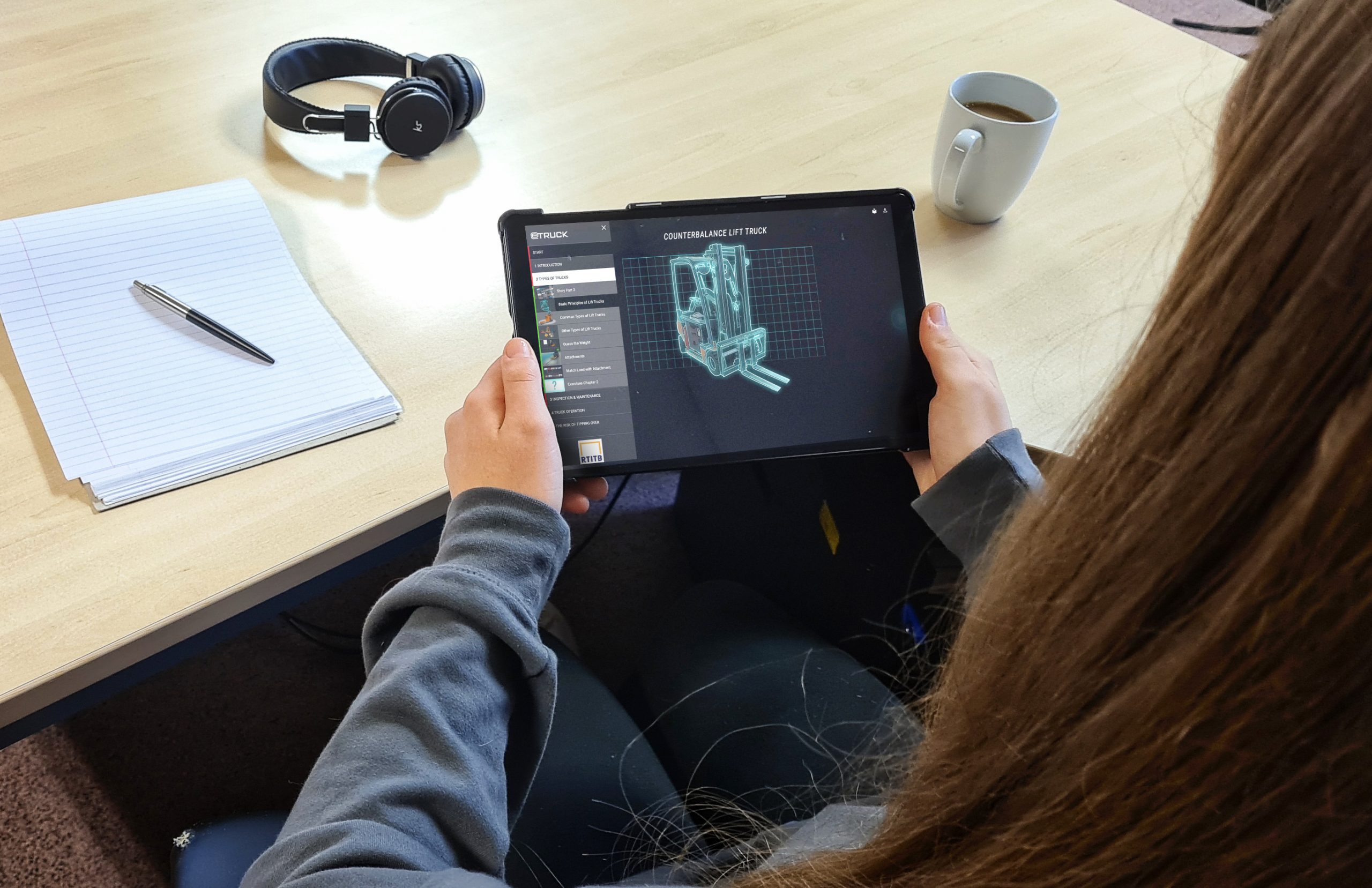 Blended learning, using eLearning together with traditional elements, is on the up in the warehousing industry. The new generation of lift truck operators embraces technology and online learning. As an industry, we need to keep up with changing learner demands. eTruck UK from RTITB is designed to make training fun, engaging, and effective. It also greatly benefits you, the training provider. 
eTruck UK is a digital storytelling tool that increases training effectiveness, whilst reducing training time. It is completed totally online before practical training. That means candidates can do their theory training anywhere, anytime, at their own pace.
How does RTITB's eTruck UK benefit your training business?
Use Instructor time more efficiently
eLearning enables forklift and reach truck operators to learn the theory independently.  It usually takes a minimum of five days of an Instructor's time to deliver training to a novice forklift operator training candidate. But using eTruck UK and independent learning means your Instructors don't have to be tied to the classroom delivering theory training.
So, while candidates undertake their theory, Instructors can be monitoring their progress in the background. Instructors can then use this time delivering other practical training courses instead. This means you can increase your training numbers and capacity for new customers.
In fact, eTruck UK for Counterbalance and Reach Truck training can help Instructors save 40% of their time. Six novice counterbalance or reach truck operators can be trained in a 2-week period without eTruck UK. But with eTruck UK, up to nine novice candidates and three refresher candidates can be trained.
This time saving can benefit the customer too, making your offering more competitive. It is appealing for many companies that their employees only need to be on site for three days of practical training to complete a novice course. Rather than the alternative of being out of the business for at least five days.
Gain valuable insight about your training candidates
eTruck UK gives you the chance to get to know your lift truck training candidates. You can learn about their abilities and knowledge before they arrive for practical training. This can help you better prepare for the practical element of training. And it gives a sense of the way they learn and communicate. This can assist the lift truck instructor delivering the training, and the candidate.
Promote your training business for free
We know that training is your top priority. That can leave little time for promoting your training business. Accredited Training Providers with eTruck UK licenses can access free promotion from RTITB. We supply you with various marketing materials and support to promote your services to existing and potential customers.
That includes advertisement on the RTITB website, event support, and access to publish posts on our LinkedIn channel. We also offer Course Locator promotion, via social media, blogs, and Google Ads. A Marketing Toolkit contains editable social media posts with images, and guides to Google Ads and LinkedIn advertising. There is also a leaflet design you can print and distribute in your local area. Find out other ways we help promote your business.
Stand out from your competitors
Embracing cutting edge tools, such as eTruck UK from RTITB helps you to thrive. eTruck UK is completely unique. It sets you apart from competitors. The digital storytelling tool takes your Instructors out of the equation for theory training. Freeing them up to do what they do best – delivering practical training. Learners using eTruck UK also have the ability to complete the training at their own speed. And it enables learners to expand on any areas where there are uncertainties.
What's more, candidates using eTruck UK find the training enjoyable and engaging. This means that they remember the skills and knowledge learnt. Employing eTruck UK shows your business is innovative and market-leading.
At the same time, using eTruck can help users to build their digital skills and confidence. This is increasingly sought after by logistics and warehousing employers. It gives employers added value when they choose operator training with your company. Thereby giving you an extra selling point to secure more business.
Save time and money for your operation
eTruck UK can help you to reduce your overheads. If your training candidates are completing theory training remotely, that eliminates your travel and ever-increasing hotel and  accommodation costs. It also gives your Instructors more time to focus on the practical training. That gives you the opportunity to expand on your business.
You can grow the overall number of different customers you support. This reduces your business risk and prevents you relying on a small number of businesses for your training income.
Increase your profit by more than 50%
Whether you're delivering training for novice, conversion or refresher lift truck and reach truck candidates, eTruck UK could increase your profit by up to 54%. This helpful resource is free to download. It shows just how much time and money you could save with eTruck UK, with clear examples. Download it today.
eTruck UK from RTITB can benefit training candidates too!
There are different types of learners. Some prefer to hear, or see information, others prefer to read or write. Some (known as kinaesthetic learners) learn best by doing and experiencing. All these differences are considerations when planning training. eLearning tools, such as eTruck UK, appeal to a diverse workforce. This can result in better trained operators, which will help keep your customers coming back for more courses.
Find out more about eTruck UK from RTITB. You can also request a demo license and try it for yourself.