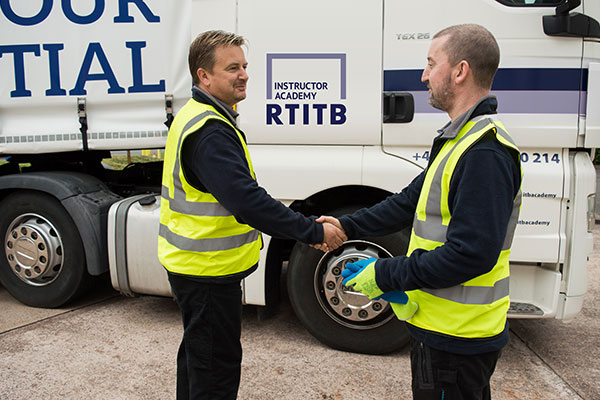 The right operator and driver behaviour is central to a productive, successful and safe workplace. Likewise, the behaviour of staff during training can have a big impact on its effectiveness.
Here are 5 ways that Instructors and trainers can manage and reduce challenging behaviour during materials handling equipment operator training and Driver CPC training.
1. Communicate behaviour expectations clearly
It is essential to first communicate the behaviour you want to see from your employees and embed this in your company's culture if you want to see this during training.
As part of their job role, employees should know which processes they are required to follow, and the way in which these should be actioned. They should know what standards are expected of them, and this includes your expectations of their behaviour. This should apply whether they are going about their day to day job, or they're in the training room.
Ultimately, a person's attitude is what will determine their behaviour in the training room. A good attitude to the employer, the workplace and the job will usually extend to more positive behaviours in the training room.
2. Create a suitable learning environment
If employees are required to complete tasks in poor working conditions, over long extended hours, with little or no extra incentive then problems tend to arise which impact performance, effectiveness and behaviour. The same applies to training.
A proactive approach to improving behaviour is much more effective than a reactive approach. Managing behaviour is not just about responding to inappropriate behaviour – it is about creating conditions that encourage positive behaviour.
Ensuring that your learning environment is comfortable makes trainees more open to learning, which in turn improves their behaviour during the session. Likewise, employers should ensure there is ample time – some candidates will be more likely to exhibit negative behaviours in a highly time pressured environment. (Though some of course will thrive on it!)
3. Set a positive tone
If you're running the training session, its part of your job to set the tone. So, if you want a positive environment, it's important to meet people in a friendly manner and use a calm tone of voice. You should remain approachable, friendly and polite throughout the training, even to the most awkward candidates that you may be tempted to try and talk over!
It can also be helpful to try to learn a little bit about the candidates beforehand or find out some personal information about them during the training, so that you can build a relationship. This encourages a friendly, respectful atmosphere in the training room that is more conducive to 'good' behaviour.
Knowing your subject well and being confident in your delivery will also give you credibility in the eyes of training candidates which can also help reduce negativity.
4. Identify your challenging candidates
Challenging behaviour can come from loud and outspoken candidates who are easily picked out in the training room. Trainers should try to turn this into a positive, and where possible use these outspoken candidates as a learning resource for others. Often some of their points are valid but may just be delivered inappropriately.
However, quiet candidates can be just as difficult. As a trainer, you should look to identify and involve these trainees to build their confidence and engagement and improve their attitude to the training. As trainees have different learning styles, you may find that changing your training delivery method can make a difficult candidate more receptive and lead to a positive change in behaviour.
Just as an employer should in the workplace, remember to recognise and reward good behaviour during training, as this makes these behaviours more likely to be repeated.
5. Address behaviour issues directly
If poor behaviour does arise, always confront and deal with it at the earliest opportunity. If you're teaching a group of candidates, you may need to speak to any challenging individuals to let them know that even though you fully understand that they have concerns, that their behaviour is disrupting others.
Break times are ideal for speaking to challenging candidates to learn more about any concerns they have, so that you can see if anything can be done to address these straight away. If poor behaviour persists, it should not be ignored. You should provide direct and constructive feedback on the reasons why it is not acceptable and the possible outcomes of continuing with that behaviour.
It all starts with the right Instructor training
Operator and driver training in the transport and logistics industry requires Instructors to have a high level of skill and knowledge, both around the subject matter and concerning how to deal with adult learners who might not always be fully engaged.
The RTITB Instructor Academy specialises in training the trainer, equipping Instructors and Assessors with relevant, internationally recognised workplace transport training qualifications. Popular courses include Lift Truck Instructor, Driver CPC Instructor and LGV Instructor. Bespoke training courses are also available.
Book a course now or call our dedicated Academy team on +44 (0)1952 520214 for more information.