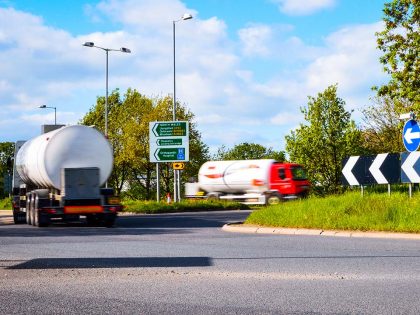 If you're delivering Dangerous Goods Driver Training already, you'll know how important it is not to cut corners when it comes to safety and compliance. However, there is a way that you can save money and time, but still ensure high-quality training that meets relevant regulations. Read on to learn how!
Cost-effective ADR Driver Training
For Dangerous Goods Driver Training to be compliant, the course must be approved by SQA, the authority appointed by the Department for Transport. This process requires an investment of your organisation's time, which has a knock-on effect on cost – we all know that time is money. There are also ongoing costs for audits to consider. So, what's the alternative?
The RTITB Dangerous Goods Driver Training Consortium enables you to start delivering SQA approved training, without any of the hassle. The training materials you can access as an ADR Consortium member are already SQA approved – we've done the hard work for you. As membership includes your SQA approval and audit fees, it makes it much better value than being SQA approved in your own right.
Continued compliance
What's more, we keep the training course materials up to date so that you don't have to. The ADR syllabus has recently been updated, this means that even if you have an SQA approved training offering, you'll need to invest significant time this year in updating it.
Or you could skip that and join the RTITB ADR Consortium instead! We'll be rolling out our refreshed and SQA approved training materials in 2021, so its an ideal time to save time and money by becoming a member. For continued compliance, any subsequent updates to keep the training current are completely free to consortium members, offering big savings in the long term.
High standards are important to us, so we will provide our full support to help you deliver the best training, including audits to keep your training quality on track.
Everything you need to hit the ground running
We know you're busy. That's why members of the RTITB Dangerous Goods Driver Training Consortium receive everything they need for instructors to start delivering training fast. And that's the same whether you've delivered ADR training before or are looking to add this to your commercial driver training offering.
You'll receive a full suite of engaging and innovated course materials, including an instructor guide, videos, and PowerPoint presentation.
These are available for classes 2, 3, 4, 5, 6, 8 and 9, Packages and Bulk, Tank and Core and have been written in-line with The European Agreement Concerning the international Carriage of Dangerous Goods by Road (ADR), Carriage of Dangerous Goods and Use of Transportable Pressure Equipment Regulations (CDG) 2009, and the Health and Safety at Work Act etc. 1974.
A professional advantage
As a member of the RTITB Dangerous Goods Driver Training Consortium, you can give your customers confidence that you're qualified to deliver professional ADR training to the highest standards. You'll show that you're dedicated to keeping drivers, and other road users, as safe as possible whilst transporting dangerous goods.
Thanks to our reputation for high standards, demonstrating that you're a member of an RTITB Consortium also shows that you take your obligations seriously and are committed to delivering excellent quality, compliant training for Dangerous Goods Drivers.
Join the RTITB ADR Consortium
Get in touch to get your membership application started.
Or buy ADR Training Materials now.