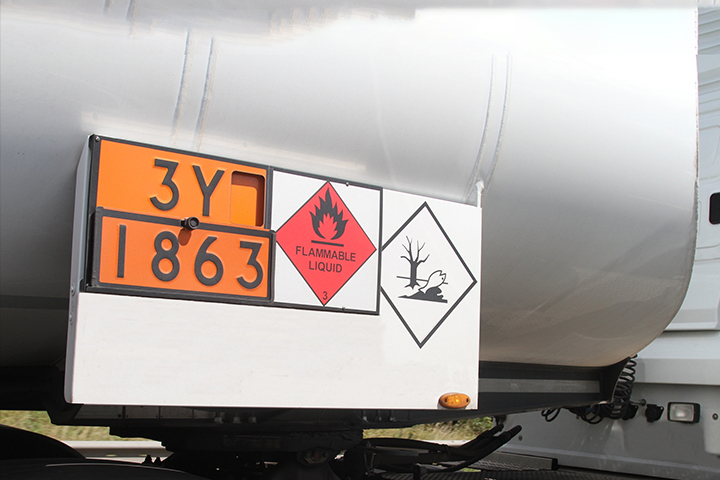 If you are a training provider looking to add ADR training for drivers to your portfolio, here is a brief introduction to the ADR regulations and what you can do to offer training. 
What are ADR dangerous goods regulations?
Designed to prevent accidents and protect people, property, the environment, other goods and transport vehicles; the ADR dangerous goods regulations apply to transport, workplace, storage, consumer and environment protection.
Drivers of all vehicles carrying dangerous goods (with some exemptions, which can be found at www.gov.uk) – often referred to as ADR Drivers, must have what is informally known as an ADR training certificate.
Dangerous goods classification by ADR 
The ADR regulations for dangerous goods driving can be complex to learn (and teach), beginning with arguably the most important stage – classification of the goods.
The consignor has a duty to classify the goods according to the type of hazard and there are nine classes (with some divisions) of dangerous goods, which depend on the potential hazard they predominantly pose.
Dangerous goods can be classified as one of the following:• Class 1 Explosive substances and articles
Class 2.1 Flammable gases
Class 2.2 Non-flammable and non-toxic gases, likely to cause asphyxiation (e.g. nitrogen, CO2) or oxidisers (e.g. oxygen)
Class 2.3 Toxic Gases (e.g. Chlorine, Phosgene)
Class 3 Flammable liquids
Class 4.1 Flammable solids, self-reactive substances, and solid desensitized explosives
Class 4.2 Flammable solids – Substances liable to spontaneous combustion
Class 4.3 Flammable solids – Substances which, in contact with water, emit flammable gases
Class 5.1 Oxidizing substances
Class 5.2 Organic peroxides
Class 6.1 Toxic substances
Class 6.2 Infectious substances
Class 7 Radioactive material
Class 8 Corrosive substances
Class 9 Miscellaneous dangerous substances and articles
If there is more than one hazard present, the most appropriate is chosen, based on a hierarchy set out in ADR.
What else do the ADR Regulations cover?
The ADR regulations cover loading and unloading practices, permitted packaging types and methods, and the sorts of tanks that may be used to transport dangerous goods.  They regulate the marking and labelling of packages, the marking and placarding of vehicles and the documentation required for transport, including Instructions in Writing for use in emergencies and much more.
They also dictate what equipment must be carried on board the vehicle, such as the correct type and size fire extinguishers, wheel chocks, pocket lamps, warning signs and a warning vest.
ADR training requirements for drivers
For obvious reasons, transporting dangerous goods is a carefully regulated process. To run ADR training courses for drivers, training providers must be approved to do so by the Department for Transport (via SQA). A specific, detailed application needs to be made to SQA to allow the provider to conduct ADR training and examinations.
At minimum, the training course should make drivers aware of the hazards of transporting dangerous goods, how the likelihood of an incident can be minimised, the measures to take for their own safety, public safety and to protect the environment, how to limit the effects of an incident if the worst happens and much more.
If you want a solution that saves you time and money and makes everything easy to implement into your business, we've got everything covered to help you offer ADR training, by becoming a member of the RTITB ADR Consortium.
RTITB Dangerous Goods Training Solutions
Whether you're already delivering ADR training for drivers and are looking for a new solution or more professional training materials, or you want to add ADR courses to your workplace transport training offering, RTITB Dangerous Goods Training Solutions can help.
The new SQA approved Consortium from RTITB gives you the resources and support that you need.  Membership grants access to innovative, engaging training materials for classes 2,3,4,5,6,8 and 9, Packages and Bulk, Tank, Core, Class 1 and Class 7 which can all count towards Driver CPC hours. These SQA approved training materials include Instructor guides, PowerPoint presentations and videos and you'll be supported by the RTITB team throughout the whole process.
Approved courses may only be run by qualified, approved Instructors.  Instructors will also require refresher training and examination periodically to uphold their qualification.
Membership includes approved up-to-date training materials, annual audits, excellent customer service, and it's cheaper than being approved in your own right, giving you better value for money. Association with the RTITB brand gives confidence to your customers and shows that you take your obligations to deliver great training for them seriously.
Find out how becoming an RTITB ADR Consortium member can help you, call Jane in our Solutions team on +44(0)1952 520207. You can also request a call back here.